Graduate Students & Research Associates - John A. Hole

last updated August 2017
---
CURRENT STUDENTS & RESEARCH ASSOCIATES
Tyler W. Rasmussen (MS) Imaging using ambient seismic noise in an active mine.
Amin Abbasi Baghbadorani (MS) Seismic and radar imaging for mine planning.
---
FORMER STUDENTS & RESEARCH ASSOCIATES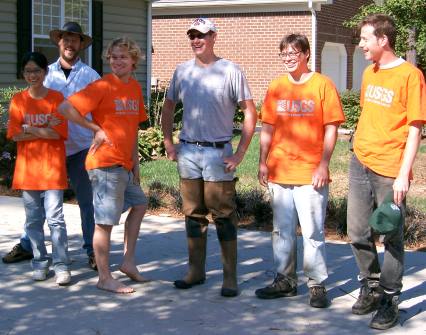 Doing collaborative field work with the USGS in October 2004: (l-r) Jiedi Wu, John Hole, Adam Niven Shumaker, Daniel Yancey, Ryan Lester, Florian Bleibinhaus.
Postdoc
A. Christian Stanciu, 2015-2016: Seismic imaging of continental arc processes of the Coast Ranges batholith, British Columbia. Now at University of Oregon (postdoc).
Florian Bleibinhaus, 2004-2005: Structure of the California Coast Ranges and San Andreas Fault at SAFOD from seismic waveform inversion and reflection imaging. Now at Montanuniversität Leoben, Austria (faculty).
Ph.D.
M.S.
---
---
To My Home Page
To Geosciences Home Page