Graduate Students & Research Associates - John A. Hole

last updated April 2018
---
CURRENT STUDENTS & RESEARCH ASSOCIATES
Tyler W. Rasmussen (MS) Quantitative comparison of a geophone array to a broadband seismometer.
Amin Abbasi Baghbadorani (MS) Imaging voids and fractures within an underground mine using ground penetrating radar.
---
FORMER STUDENTS & RESEARCH ASSOCIATES
Postdoc
A. Christian Stanciu, 2015-2016: Seismic imaging of continental arc processes of the Coast Ranges batholith, British Columbia. Now at University of Oregon (postdoc).
Florian Bleibinhaus, 2004-2005: Structure of the California Coast Ranges and San Andreas Fault at SAFOD from seismic waveform inversion and reflection imaging. Now at Montanuniversität Leoben, Austria (faculty).
Ph.D.
M.S.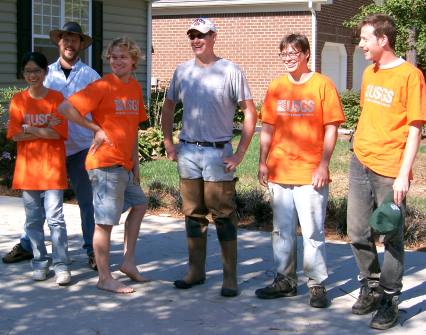 Doing collaborative field work with the USGS in October 2004: (l-r) Jiedi Wu, John Hole, Adam Niven Shumaker, Daniel Yancey, Ryan Lester, Florian Bleibinhaus.
---
---
To My Home Page
To Geosciences Home Page