Commission on Controlled-Source Seismology: Deep Seismic Methods
12th International Workshop
Mountain Lake, Virginia, USA
8-11 October 2003

The CCSS "Deep Seismic Methods"workshops focus on methodological aspects of reflection and refraction seismology as applied to crustal and lithospheric targets. The goal is the development and assessment of improved acquisition, processing, modelling, inversion, integration, and interpretation procedures.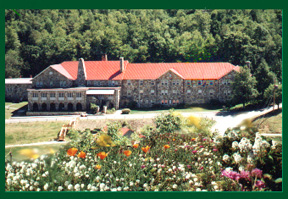 The 2003 workshop was held at the Mountain Lake Hotel in Virginia, USA. The hotel is about 20 minutes from Virginia Tech and Blacksburg VA.
Hosts: John Hole, Virginia Tech and Colin Zelt, Rice University
An article summarizing the workshop was published in EOS:
Hole, J. A., Zelt, C. A., and Pratt, R. G. (2005) Advances in controlled-source seismic imaging, Eos Trans. Amer. Geophys. Union, 86, pp. 177 & 181 (May 3 issue, cover article).
---
The CCSS is now the WGSIL
The CCSS is(was) a division of IASPEI, the International Association of Seismology and Physics of the Earth's Interior. CCSS has recently been re-organized into IASPEI's Working Group on Seismic Imaging of the Lithosphere (WGSIL). The 2003 Virginia workshop was the 12th in a series dating back 35 years. Previous workshops were held in Dublin Ireland (1999), Cambridge UK (1996), Moscow Russia (1993), Kiel Germany (1990), Whistler Canada (1987), Susono Japan (1985), Einsiedeln Switzerland (1983), Park City USA (1980), ? (late 1970's), ? (mid-1970's), and Leningrad USSR (1968).


We are currently looking for a host for the next workshop, circa 2006. Please contact John Hole.

The CCSS Methods workshop series works in parallel with the "Deep Seismix" international workshops also sponsored by IASPEI-CCSS/WGSIL and held approximately every two years. The Deep Seismix workshops emphasize application and interpretation of the seismic methods to image the lithosphere. The Methods workshops are focussed on the techniques and are smaller to best facilitate discussion.
---
Sponsors:
NSF - National Science Foundation (Continental Dynamics Program)
IASPEI - International Association of Seismology and Physics of the Earth's Interior
IRIS - Incorporated Research Institutions for Seismology
Virginia Tech Department of Geosciences
Virginia Tech
---
PROGRAM (with links to online pdf-format extended abstracts)
Wednesday 8 October
08:45 John Hole, Virginia Tech: Welcome
09:00 Michael Bostock (U. of British Columbia, Canada), Inverse scattering of teleseismic waveforms
10:00 Shirley Baher (U. S. Geological Survey, Menlo Park, USA) and G. Fuis, Integration of controlled and passive sources used to generate a tomographic image of the Santa Monica basin
10:30 Break
11:00 John Hole (Virginia Tech, USA), Migration imaging of steeply dipping faults
11:30 Gou Fujie (Inst. for Frontier Research on Earth Evolution, Japan), A. Ito, S. Kodaira, and Y. Kaneda, Reflection travel time mapping for imaging lithospheric scale reflectors
12:00 Lunch
01:30 Dirk Gajewski (U. of Hamburg, Germany), Recent advances in reflection seismic imaging
02:30 Biondo Biondi (Stanford U., USA), Imaging of complex structures by reflection seismic data: state-of-the-art and road ahead
03:30 Break
03:45 Robert Hawman (U. of Georgia, USA), M. Khalifa, J. Kucinskis, and J. Clippard, Using quarry blasts to image the crust: deconvolution and migration of wide-angle data
04:15 Colin Zelt (Rice U., USA), Exploiting the complementary nature of two inverse methods
04:45 Igor Morozov (U. of Saskatchewan, Canada), and G. Chubak, Industry-grade seismic processing system for controlled- (and passive-) source academic research
05:15 Dinner
Thursday 9 October
08:30 Gerhard Pratt (Queen's U., Canada), Waveform tomography: theory and practice
09:30 Fuchun Gao (Rice U., USA), A. Levander, G. Pratt, C. Zelt, and S. Ham, High resolution waveform tomography at a groundwater contamination site: surface reflection and VSP datasets
10:00 Kalachand Sain (National Geophysical Research Inst., India), F. Gao, G. Pratt, and C. Zelt, Imaging of sub-basalt sediments using waveform inversion of wide-angle seismic data
10:30 Break
11:00 Charles Hurich (Memorial U., Canada), Seismology and the characterization of lithospheric heterogeneity
12:00 Matthias Imhof (Virginia Tech, USA), Quantifying seismic heterogeneity
12:30 Lunch
02:00 Colin Zelt (Rice U., USA), Synthetic data distributed prior to the workshop
02:15 Dieter Franke (BGR, Germany), The effect of variable receiver samplings on a velocity model obtained by an automatic inversion of the traveltimes from the synthetic data set distributed prior to the meeting
02:45 Andrew Brenders (Queen's U., Canada), and G. Pratt, Waveform tomography of a 2-D full wavefield, elastic, wide angle, synthetic dataset
03:15 Christopher Juhlin (Uppsala U., Sweden), J. Rodriguez, and A. Tryggvason, Reflection seismic processing of the CCSS 2003 "high resolution" synthetic data set
03:45 Colin Zelt (Rice U., USA), The unknown model and refraction/reflection traveltime tomography results **** Colin also presented results of other groups that worked on the data but were unable to attend.
04:00 Discussion: results from the synthetic data
04:30 Posters and Dinner
Friday 10 October
08:30 Bernd Milkereit (U. of Toronto, Canada),D. Eaton, M. Salisbury, E. Adam, and T. Bohlen, 3D seismic imaging for mineral exploration
09:30 Roman Spitzer (Cambridge U., UK), Environmental/engineering-scale seismic exploration
10:30 Break
11:00 Tamas Fancsik (Eotvos Lorand Geophysical Inst., Hungary), A. Csaba Kovacs, and E. Hegedus, Wide-angle reflection-refraction experiment in the NE Pannonian Basin
11:30 Cemil Gurbuz (Bogazici U., Turkey), T. Bekler, M. N. Toksoz, S. Kuleli, D. Kalafat, and C. Schultz, Seismic refraction studies and crustal structure in Anatolia
12:00 Alan Roberts (Cambridge U.), Integrated wide-angle and reflection modelling of the North Atlantic margin
12:30 Lunch
01:30 Katie Keranen (Stanford U., USA), and S. Klemperer, Preliminary results from 3-D tomography in the Main Ethiopian Rift
02:00 Bryan Kerr (Stanford U., USA), and S. Klemperer, Wide-angle imaging of the Mariana subduction factory: progress and challenges
02:30 Stefan Buske (Free U. of Berlin, Germany), S. Luth, R. Patzig, S. Shapiro, P. Wigger, and M. Yoon, Seismic imaging of the subducted Nazca slab, north Chile
03:00 Break
03:30 Open Discussion: Successes and Challenges
05:30 Dinner
Saturday 11 October
09:00 Hike to mountain viewpoints
01:00 Hike to Cascades waterfall
Other abstracts received
These people cancelled, with regrets, due to last-minute travel complications. Abstracts are available.
Camelia Knapp (U. of South Carolina, USA), J. Knapp, E. Anderson, and D. Mucuta, Lithosphere-scale imaging of the Romanian Carpathians: new approaches with the PASSCAL instrument pool
Tetsuo Takanami (Hokkaido U., Japan), A new statistical method to discrimination between water waves and reflected and/or refracted waves in OBS data -- cancelled due to M8 earthquake in Hokkaido!
---
Participants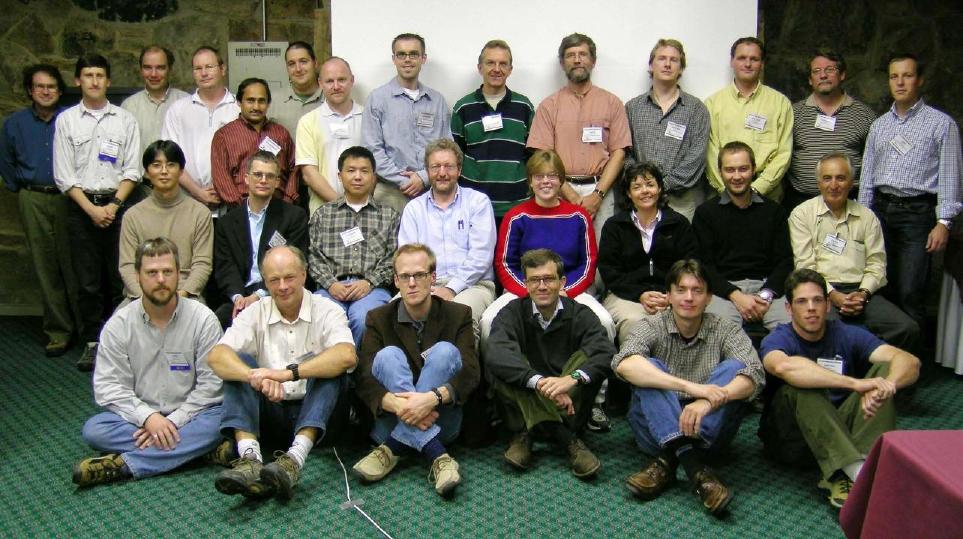 Back row left to right: Robert Hawman, Colin Zelt, Igor Morozov, Tamas Fancsik, Kalachand Sain, Attila Kovacs, Bernd Milkereit, Andrew Brenders, Dirk Gajewski, David Snyder, Stefan Buske, Dieter Franke, Charles Hurich, Jan Grobys
Middle row: Gou Fujie, Matthias Imhof, Fuchun Gao, R. Gerhard Pratt, Kathleen Keranen, Shirley Baher, Roman Spitzer, Cemil Gurbuz
Front row: John Hole, Christopher Juhlin, Michael Bostock, Biondo Biondi, Alan Roberts, Bryan Kerr
---
To John Hole's Home Page
To Colin Zelt's Home Page